Sale!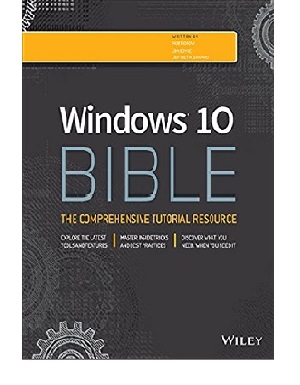 Windows 10 Bible
Not everyone wants to be a computer expert, and few have the time to become one. Most people just want to use a computer to get things done, or even just to have some fun. This should come
as no surprise. After all, not everyone who drives a car wants to be a professional mechanic. Not everyone who uses a cellphone wants to be an electrical engineer. So, why should everyone who
uses a computer want, or need, to be a computer expert? They shouldn't. Some people just need to be computer users — people who use the computer without being total nerds about it.
Compare
Description
Windows 10 is the latest edition in the Windows family and builds on the usability and performance improvements in Windows 7 and Windows 8.x. One of the biggest differences, however, is
the introduction of a cross-platform model that brings the same code base and user experience to a wide range of platforms including the PC, tablets, phones, Xbox, and even small devices like the
Raspberry Pi!
Additional information
| | |
| --- | --- |
| Author | Jeffrey R. Shapiro, Jim Boyce, Rob Tidrow |
| File Type | PDF |
| Language | English |
| Pages | 888 |
| Publication Year | 2015 |